Wine at conference dinner and lunch sponsor
Tenuta Sant'Antonio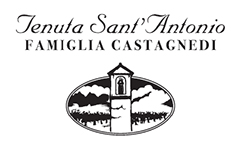 Tenuta Sant'Antonio is a family-run company, four brothers that have always worked in the vineyards with their father and that in 1995 decided to become wine producers.
Everyone has his own role in the company: Armando is the export manager, Tiziano is in charge for the Italian market, Paolo is the winemaker and Massimo, the youngest one, works in the vineyards.
They have about 100 hectars of vineyards, 70% in the Valpolicella area on the crest of a hill called Monti Garbi, 30% in the Soave area on a hill called Monte Ceriani.
The production is organized in 3 brands:
TENUTA SANT'ANTONIO. Traditional wines of our territory: 3 selections of Soave, 3 selections of Valpolicella and 3 selections of Amarone.
TELOS. These three wines are produced without chemical products and without the addition of sulphites, only organic products are used, but they don't have the BIOLOGICO certification yet.
SCAIA. Five wines, modern and young, fruity, fresh and easy-drinking. "Scaia" is a word of our Veneto dialect, in Italian is "scaglia", that means chip/scale, like a Parmigiano chip. It reminds of our soil that is made of small chips of pure chalk and is completely white.
« Go Back