Exhibitor/Silver sponsor
Smart Sensory Solutions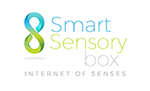 Smart Sensory Solutions is an award-winning company, which provides data management systems for sensory and consumer science practitioners.
Our main product is the Smart Sensory box, a portable, hasslefree device that allows to set up a large variety of tests in a very short time. Data are collected in real-time and the results are immediately available. All basic statistical tools are included in the software and results are exportable to several formats for further elaboration. The Smart Sensory box operates both online and offline; its main characteristics are ease of use, outstanding graphic design, flexibility and affordability. Test modules can be bought in packages or one by one and can be upgraded in time, in order to simplify operations and reduce costs. Smart Sensory box operates independently from IT infrastructures, avoiding problems with large networks, connection failure, authorisations etc.
Our team of IT specialists, quality management experts and consumer and sensory scientists delivers custom-made solutions all around the world, while keeping an eye on the future trends of sensory practice. Smart Sensory box is partner to some of the most important brands of the agri-food industry of Italy and has been chosen by Universities, research centres and freelance consultants all over the world.
« Go Back