Exhibitor
Sensory Value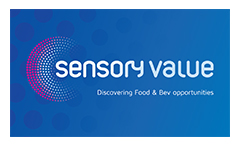 WE TRANSFORM SENSORIALITY INTO VALUE FOR OUR CLIENTS.
Sensory Value is the only strategic product consulting firm that focuses exclusively on the Food and Beverage markets.
Our mission is to identify the Sensory Assets of our clients' products. These Sensory Assets can be transformed into competitive advantages that add value to their businesses.
Sensory Value focuses on product quantitative projects, using methodologies based on Product Tests with Consumers and Sensory Descriptive Analysis.
WE ARE SENSORY CONSULTANTS OF PRODUCTS.
Our passion : the use of sensory applied to our clients' product strategy.
Our background in the food industry and our knowledge in interpreting results allow us to deliver reports with clear and actionable recommendations for both Marketing and R&D departments.
We proactively collaborate with our clients in the five continents to identify solutions that meet their needs.
WE USE ALL FIVE SENSES IN EVERY PROJECT.


Italian version:
TRASFORMIAMO LA SENSORIALITÀ IN VALORE PER I NOSTRI CLIENTI.
Sensory Value è l'unica società di consulenza strategica che si occupa esclusivamente sui mercati del Food&Beverage.
La nostra missione è quella di identificare i Sensory Assets dei prodotti dei nostri clienti. Questi Sensory Assets possono essere trasformati in un vantaggio competitivo che aggiunge valore al loro business.
Sensory Value è specializzata in test di prodotto quantitativi, utilizzando metodologie basate su test con consumatori e sull'analisi sensoriale descrittiva.
SIAMO CONSULENTI SENSORIALI DEL PRODOTTO.
La nostra passione: l'unione delle tecniche sensoriali alla strategia di prodotto dei nostri clienti.
La nostra esperienza nel settore alimentare ed il nostro know-how consolidato nell'interpretazione dei risultati ci consentono di fornire risultati con raccomandazioni chiare e fruibili per il dipartimento di Marketing e di Ricerca e Sviluppo.
Collaboriamo proattivamente con i nostri clienti a livello mondiale per identificare soluzioni che soddisfino le loro esigenze.
UTILIZZIAMO I CINQUE SENSI IN OGNI PROGETTO.
« Go Back