Exhibitor
The Institute for Sensory Research and Reckner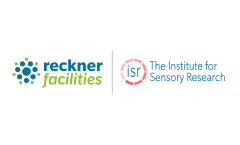 The Institute for Sensory Research and Reckner Facilities are sister companies providing experienced product testing and sensory research in the United States. 
The Institute for Sensory Research (ISR) is a nationally-recognized, full-service sensory research organization, located just outside of New York City. We provide sensory panels for discrimination and descriptive testing and sensory testing facilities, including product testing booths and sink booths.   We are one of the most experienced scientific sensory research organizations with 18+ years' working with food, beverage, household care & personal care manufacturers. Our approach links established sensory & scientific methodologies with strict quality controls to provide reliable research results for confident decision making.
Our sensory research services include:
Discrimination testing
Descriptive analysis
Preference mapping
Category appraisal
Round-table tasting
Product screening
Temporal dominance of sensation
Shelf-life studies
Flash profiling
Napping
Reckner Facilities provides state-of-the-art, product and sensory testing facilities, as well as fieldwork across the United States. Our modern, spacious facilities are located in three major markets in the United States, and we provide fieldwork in every U.S. market through our extensive network of validated research partners. With 25+ years' experience, we are knowledgeable in all methodologies and can provide guidance on executing your study successfully. Specialties include product testing, home use tests, central location tests, and sensory evaluations.
Our facilities include:
Commercial test kitchens
Product testing booths
Sink booths
Household care rooms (washer, dryer, toilet)
Multipurpose rooms
Focus group rooms
Our fieldwork services include:
Dedicated project manager
Recruiting management
Study execution expertise
Daily progress reports
Incentives management and disbursement
Global programming capabilities for one data-set
« Go Back