Welcome drink – Conference dinner sponsor
Prosecco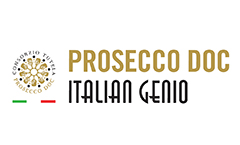 Prosecco is a Controlled Designation of Origin (DOC) that was officially recognized at European level in July 2009. The producers must respect the product specification to produce what can officially be called Prosecco DOC.
The Tutelary Consortium of Prosecco DOC lists a set of disciplinary guidelines involving the following key points:
Production area and grape varieties
Viticultural techniques, wine production and bottling
Control, Labelling and Marketing
A representation of Italian excellence, Prosecco DOC boasts a distinct territory, stretching in 5 provinces in the Veneto region (Treviso, Venice, Vicenza, Padua, Belluno) and 4 provinces in Friuli Venezia Giulia (Gorizia, Pordenone, Trieste and Udine); the unique environmental conditions provided by the Dolomites and the Adriatic Sea give the Glera grapes unique elegance, balance within sugars and acidity and contemporary flair. Characteristics gifted also by the local winemakers' tradition and know-how.
Prosecco DOC must contain minimum 85% Glera, an autochthonous variety from northeast Italy known since Roman times and up to 15% of other autochthonous varieties (Verdiso, Bianchetta Trevigiana, Perera, Glera lunga, Chardonnay, Pinot Blanc, Pinot Gris and Pinot Noir - white vinification only). Prosecco DOC's second fermentation occurs in pressurized autoclaves – Martinotti Method - preserving the uniqueness and complexity of the grape, enhancing freshness, fragrance and lightness in a simple and balanced way.
The Denomination Prosecco boasts 24,450 hectares of vineyards, 10,242 wine-growing farms, 1,149 winemakers and 348 sparkling wine houses reaching the production of 440 million of bottles (2017 data).
Prosecco is a straw yellow, fresh, flowery and fruity wine, with a light but lively flavour and fine bubbles. Easy to drink, it has an elegant fruity nose of apple, peach and pear, with a hint of citrus fruit that fades into a floral undertone. Some tropical fruit flavours may be perceived as well. The mouth feel offers a good balance between the sugary and acidic components, which leaves sensations of freshness, smoothness and vivacity on the palate.
www.prosecco.wine
Facebook: @ilprosecco
Twitter: @DOCProsecco
Instagram: @proseccodoc


« Go Back