Exhibitor
Opinions LTD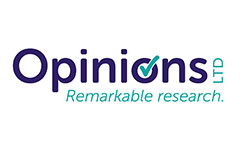 It's not just data. It's personal.
At Opinions LTD, our team of trusted professionals and research services are the fuel that power our clients' success.
We provide consistent protocols and accurate, timely & quality research in 30 facilities/studios across the USA . By appointing one centralized contact that streamlines communication, quality & procedure controls, we secure a quality testing experience.
Sensory & consumer testing is all in a day's work at Opinions LTD! Our team conducts a wide variety of consumer research evaluations such as central location testing, qualitative, and home use tests with a growing database that currently exceeds 850,000 individuals.
Our facilities are well-equipped to handle a multitude of sensory related research including, but not limited to:
Food & Beverage
Fine Fragrances
Cosmetic & Beauty Care
Personal Care
Tobacco
Alcohol Testing
Luxury Brands
Laundry & Home Care
Opinions' facilities, company-owned and operated, puts you directly in touch with your target audience of consumers!
How can we deliver on your next research project?
Email us today: Chris@opinionsltd.com or Mark@opinionsltd.com
Visit our website at www.opinionsltd.com
« Go Back