Exhibitor
Haystack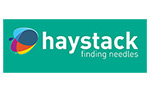 Haystack, a global multisensory research consultancy agency, helps you to perform better in your volatile and complex markets. We have accumulated a vast track record in the domains of consumer understanding, product innovation, pack performance and shop experience.
At Haystack we look at each research project from a multi-sensorial perspective. We strongly believe that it's the interaction of all senses that influences our perception, experience and decision-making in real-life. We call the process of achieving this Symphony Of Senses. We tap as much as possible into all senses to give people a congruent experience that emotionally resonates. We do that by incorporating the latest implicit, emotive and contextual methodologies in our research solutions.
Haystack provides in-depth analysis of the behavior and decision-making processes. Our credo: let us manage the complexity in research and make it simple, easy and enjoyable.

Website: www.haystack-international.com

« Go Back