Exhibitor
Datastories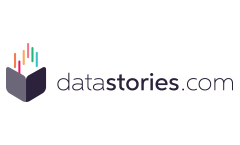 DataStories International based in Turnhout, Belgium, is the advanced predictive analytics partner for businesses with a very complex R&D or complex manufacturing process.  We focus primarily on performance chemicals, food and flavor R&D, and life sciences (medical and agriculture). Our technology helps dramatically accelerate material and compound discovery, identify core performance drivers and translate experimental and process data into immediately actionable recommendations.
Opposite to other advanced analytics tools, DataStories is the only technology with a clear feedback loop from machine learning algorithms to actions. We make the domain experts central and deliver interactive, interpretable data story reports (automatically) with real-time what-if simulators and target profilers.
DataStories' core competitive advantage is in unique machine learning and predictive AI algorithms, that work for data with too many factors of unknown significance (hundreds and thousands of factors) and automatic data analysis workflows (handling missing, correlated and badly scaled data).
We are known for being able to quickly align project stakeholders towards the same goal (even when they come from competing ego's, vantage points or departments), solicit their commitment for clear communication and assistance, and maintain a positive and productive environment during and after the project. We have a broad experience on working on high-confidentiality and high-sensitivity projects like this RFP,  and can guarantee utmost work ethics. 
Our greatest value in consulting projects is in our ability to effectively translate the data-driven problem into directly measurable business value and a sequence of steps to execute towards improving the optimization targets.
Website: www.datastories.com
« Go Back