Platinum Sponsor/Exhibitor
Compusense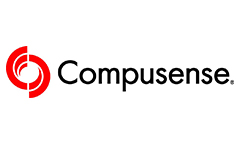 Compusense has a rich and trusted history of providing the world's leading food, beverage, and CPG companies with the power to turn insights into opportunities. Our dedication to industry best practice, innovation, and thought leadership helps our clients achieve their sensory and consumer science goals at every stage of the product-development cycle.
Compusense Cloud
A web-based Software-as-a-Service platform for comprehensive sensory and consumer testing, complete with user-friendly reporting, analysis, panel scheduling and management, and so much more.
Sensory and Consumer Research Services
Extensive, wide-ranging sensory and consumer testing capabilities, including experienced and calibrated descriptive profile paneling for leading consumer product companies, with emphasis on research and industry best practices.
Research and Innovation
Collaborative research opportunities with Compusense that helps to support the continued development of best practice in the sensory and consumer sciences.

Academic Consortium
Compusense supports over 100 universities and research institutes worlwide. The Consortium promotes research in sensory and consumer sciences, support of academic programs and a platform for research collaboration.
Compusense gives our clients the tools, support, and resources to make smartbusiness decisions for their products
Website: www.compusense.com
« Go Back