Supporting Publication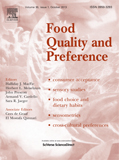 Selected, refereed papers from the 2018 Eurosense conference are planned to be published in a special issue of Food Quality and Preference. Oral and poster presenters at the conference are invited to submit full manuscripts for consideration for inclusion in the special issue. All manuscripts will be subject to the normal process of peer review. The Journal has a new process for producing special issue content, that allows full citation to be available to you much quicker, typically shaving 9 weeks off the process. This process is called VSI (virtual special issues). Special Issues following the VSI workflow publish all items in the first available regular issue and simultaneously articles appear in a new section on ScienceDirect, set up specifically for a journal and dedicated to VSIs.
Authors are reminded that FQAP does not consider papers which do not contain human measurement, or papers which report the application of standard sensory methods to new products. Please note that acceptance of an abstract in the symposium programme does not imply acceptance of an accompanying paper for publication in the FQAP special issue. Manuscripts should be submitted starting from 1 September 2018, and the deadline for submission is 15 December 2018.
Your manuscript must be prepared according to the journal's Guide for Authors, which can be found on the journal web page at www.elsevier.com/locate/foodqual. Detailed information on the journal, including its Aims and Scope, is also available on the web page. Manuscripts for the special issue must be submitted online, using Elsevier's electronic submission system (EES), at http://ees.elsevier.com/fqap. When submitting your paper, select article type "SI: Eurosense 2018" when prompted.
Food Quality and Preference publishes original research, critical reviews, and short communications in sensory and consumer science, and sensometrics. In addition, the journal publishes special invited issues on important timely topics and from relevant conferences. These are aimed at bridging the gap between research and application, bringing together authors and readers in consumer and market research, sensory science, sensometrics and sensory evaluation, nutrition and food choice, as well as food research, product development and sensory quality assurance. Submissions to Food Quality and Preference are limited to papers that include some form of human measurement; papers that are limited to physical/chemical measures or the routine application of sensory, consumer or econometric analysis will not be considered unless they specifically make a novel scientific contribution in line with the journal's coverage as outlined below.
The journal's coverage includes:

Sensory and motivational studies
Food choice studies of cultural, sensory and environmental factors
Innovative consumer and market research
Geographical, cultural and individual differences in food perception and preferences
Expert versus non-expert perception of quality
Mathematical modelling in relation to food acceptability and food quality
Sensometric analyses and models of food sensory and acceptance parameters
Consumer psychology and behavior
Consumer-driven product development
Product experience and contextual influences
Relevant methodological papers on personal care and other consumer products
For more information please visit: www.journals.elsevier.com/food-quality-and-preference