Speaker
John Prescott, TasteMatters Research & Consulting, Australia, University of Florence, Italy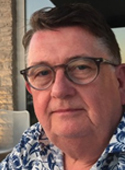 John Prescott is director of TasteMatters Research & Consulting, and author of Taste Matters. Why We Like The Foods We Do. (Reaktion Books, London, 2012).
He was previously Associate Professor in Psychology at the University of Newcastle and James Cook University in Australia, and former Director of the Sensory Science Research Centre (University of Otago, New Zealand) and Sensory Research Centre (CSIRO, Australia). He received his doctorate from the University of New South Wales, Australia in 1986.
He has more than 120 scientific publications on topics such as genetic variations in taste perception, cross-cultural chemosensory perceptions and preferences, flavour perception, food preferences, odour learning and memory, and emotions.
John is past President and Secretary of the Australasian Association for Chemosensory Science. He is currently editor of the pre-eminent journal for applied sensory and consumer science, Food Quality and Preference, an Associate Fellow of the Institute on Asian Consumer Insight at Nanyang Technological University, Singapore, and a Visiting Professor at the Università degli Studi di Firenze, Italy where he is external adviser to the multi-centre Italian Taste project.
« Go Back