Scientific Committee
Sinead McCarthy, Teagasc - Rural Economy & Development Centre, Ireland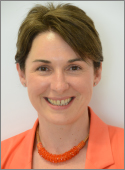 Dr. Sinéad McCarthy is a former student of University College Cork where she graduated with a B.Sc in 1993, a M.Sc in Food Science in 1996 and in 2003 with a Ph.D. in Public Health Nutrition.
For more than two decades, Sinéad has been involved in many areas of nutrition research, with a focus on food and health. Sinéad's research career has ranged from human nutritional physiology and public health nutrition, designing and managing national food consumption programmes and consumer behaviour.
Currently employed by Teagasc, the Irish Authority for Food and Agriculture, Sinéad is responsible for leading Teagasc's consumer behaviour research programme in relation to food and health. She is actively involved in the area of consumer food choice determinants and its potential climatic and health impact. Sinéad is currently researching many on-going projects covering sensory science, consumer food and health behaviour, sustainable food consumption patterns, aging and food choice, consumer acceptance of novel food technologies, consumer acceptance of marine derived functional foods and drivers of cheese consumption. Sinéad is also one of the co-ordinators of the Irish national sensory network: Sensory Food Network Ireland. She is a member of the Food Safety Authority of Ireland Public Health Nutrition sub-committee and the Nutrition and Health Foundation Scientific committee. She is also an active member of the Nutrition Society.
« Go Back