Scientific Committee
Carolina Chaya, Polytechnic University of Madrid, Spain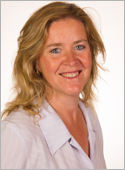 Carolina Chaya, Department of Agricultural Economics, Statistics and Management Science, Universidad Politécnica de Madrid, Spain
Carolina has been an Associate Professor at the Universidad Politécnica de Madrid since 2003. Since 1996 she has delivered university courses on Statistics, Operations Research, Data Analysis, Statistical Quality Control, Sensory Analysis and Sensometrics at both undergraduate and postgraduate level.
She is very involved in the foundation and promotion of the activities of both the Spanish and the European Sensory Science Societies.
She is the director of the Sensometrics course (25-30 hours) organized by the Spanish Sensory Science Society (AEPAS) every year and has been the panel leader of a panel of thirty expert sensory assessors of different foods and beverages since 2008.
She is a member of the Sensory Analysis Committee of the Spanish Agency of Standardization since 2006.
Her recent research is related to consumer sensory science and more specifically to the study of the emotional response.
Personal website: https:/carolinachaya.wixsite.com/home
« Go Back